Okay, so maybe it's just me, but I am tired.  It's supposed to be spring here in Canada, but I think I have only seen the sun once in the past week, and the dirty piles of grey snow in the mall parking lots just finally melted last week. Yuck.  All of this is making me feel blah and definitely NOT like the sexy Mama I pretend to be. So here is my question.  Why is it that the weather appears to have had no affect on the men folk or the world? 
It seems in the suburbs it doesn't matter if we have lived in perpetual darkness for weeks, if the kids have been ill for days on end, if we are all sleep deprived and grumpy, if there is stress or anger vibrating through the house ….men are always "in the mood"!
I love my Hubby so very much, I really do, but let's be honest as a women I just can't be "in the mood" all the time!  So how will I survive this um difference in interest between husband and wife?  Maybe I need some retail therapy, maybe I need some gentle help!! 
I always try and be all kinds of honest so I will confess, I find myself wondering, after almost 15 years of marriage could it be time be to do a little shopping here?



Better start of slow!  EdenFantasys sells a set of Beeswax aromatherapy candles that are something I could see myself ordering from this couple friendly site.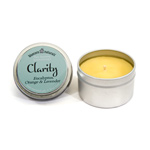 I like the idea of these Mood enhancing candles in little travel tins each with their own distinct smell to help soothe your mind, body and soul.   With smells like Tranquility, Sensuality, Clarity, Uplifting,  Relaxing,  and Well Being we could be on the right track! 



If that fails I guess I could get myself the Romantic candle which has the added bonus of pheromones?  Wow!  Who knew?  Then throw in the Bed of Roses kit!  That ought to do it!


I will keep my eyes open for a  "Ready or not, I'm getting my sexy back" candle. Until then perhaps I should also open a bottle of wine. 
I always look better in the mirror and am clearly much sexier when I have had a big glass of cold chardonnay!  Ha!
Fess up.  What is the bravest or wildest thing you have done to get your sexy back?  Feeling brave enough to share?
Sponsored Post: I received a gift card in exchange for the writing of this post. This compensation in no way affected the opinions reflected in this post.