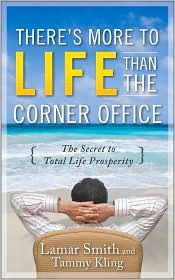 I was quite thrilled to be asked if I would be interested in doing a review of
There's More to
Life
Than The Corner Office
The Secret to Total Life Prosperity
. By Lamar Smith and Tammy King.
From the Publisher:
"In 'There's More to Life Than the Corner Office', a parable, Lamar Smith explores the relationship between a young, driven, narcissistic investment banker and a down-to-earth, successful older CEO who meet by a fortunate twist of fate. This touching story is about a young man whose life is out of control. His career entirely consumes him as he focuses solely on acquiring the brass ring, losing sight of what's truly important to the point that he is separated from the woman he loves and on the brink of divorce. Initially dismissed by the young man as old and past his prime, the CEO takes him under his wing and shares the hard life lessons that he himself learned on the road to success."
As the pages unfold we are invited to follow Patrick Mitchell, a career focused, single minded business man as he fights his way to the top of the corporate ladder. He is angling for the always coveted corner office, no matter the cost. When he has a chance meeting with business icon Al Crafton a new relationship is forged. Al is determined to show this young man that a life of balance should really be the ultimate goal. Will the new relationship help him to see there is more to life than that corner office? Will Patrick see that when you are chasing your dreams of financial success, you must honour your other relationships as well as your emotional and physical self? I promise you will be anxious to keep turning those pages!
Following the birth of my second child I made the decision to give up the career I loved to stay home with my children. I found much of who I was was easily lost in my work. So many of my goals, so much of my energy was zapped by career goals and needs. It was inevitable, there was always a struggle for balance between home and work. Even though I now work at home, there were still many moments when reading this book I found the conversations of balance, finding significance in each day, and living with joy, resonating with me.
I tore through this book in a couple of days and my Hubby has just jumped in. He is looking forward to reading this novel with a message.
Thanks to the people at Meryl L. Moss Media Relations, Inc. I have a copy of There's More to Life Than The Corner Office to offer as a Give Away!
Entering is easy:
Are you a follower? 1 Entry
Not a follower? Time to start! 1 Entry
Grab My Button, or tell me you have it! 1 Entry
Is there a reader in your house that you think would enjoy this book? Tell me! 1 Entry
Blog about this Give Away. 3 Entries!
Don't forget to leave separate comments for each entry and include that e-mail address.
Contest will close on Friday August 28th and is open to Canada and U.S.
Good Luck!