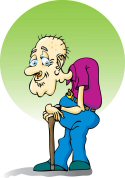 Have I turned some invisible corner down here in Suburbia?
Something is different.
It wasn't that long ago that I would catch the odd guy, man, even boy-child checking me out. He might have been a cradle robbing early 20s or a dude pushing his middle 40's that had given me the eye. I never really thought about it, it just was a part of my day.
Lately there has been a change in the men who's glances are lasting a little too long, who stop and stare or even wink inappropriately!
They are OLD.
What I'm seeing is well past the salt and pepper stage and into full on grey.
Smile lines have turned into wrinkles.
Convertibles and mini-vans have turned into Town Cars.
What the hell is going on?
My Birthday is this week and I will be 38. Apparently it's time to hit the gym, go for a facial and stop hanging out at the grocery store before 8am because either I'm looking old or the senior citizens out there are getting pretty cocky!
I guess 38 is the new 60.
Note from the Author:
This is the point where I feel the need to say..I am well aware that I am one of the few who is blessed to actually still be in love with my hubby after more then twelve years. He is my best friend, my soul mate, the man I was meant to be with. I thank God every day for him and our family. He still flirts with me even though only senior citizens are the only other men out there who think I'm hot! Love you baby!